Ski workshop & service point
No matter whether you are an athlete, freestyle snowboarder or leisure skier, ski sports are only fun with professionally prepared equipment. To achieve this we will treat your skis with our machine, a state of the art service robot.
Accurate robotics technology
At first the base is prepared by a stone grinding treatment. This creates the desired structure of the ski or snowboard base. The edges are sharpened with an optimal angle and precisely applied pressure, from the front to the back. The beveling and polishing along the edges and towards the base of the skis, lead to an optimal geometry.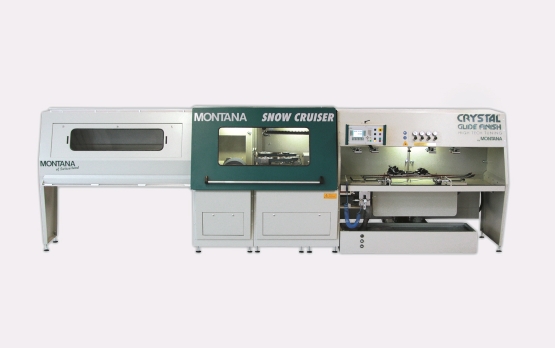 We are right at the Feldbergbahn for you on site!
Standard
structure grinding,
edge grinding
Racer
base cleaning,
structure & edge grinding
Highline
structure & edge grinding
infrared waxing
Thoma Service Center at the entry of the Feldbergbahn
Polishing
brushing & polishing
after one's own waxing
Infrared waxing
base cleaning, infrared waxing,
brushing
Wax Highline
base cleaning, iron waxing,
brushing
… other repairs, fitting & setting of bindings etc. according to expenditure!